Sally's Trauma – part 2
A knife to the throat has a high chance of generating anxiety.
When we left Sally, she had been preparing dinner when two men broke into her house and put a knife to her throat. The last thing she had heard before she passed out was "Mommy, Mommy…"
When she came round, she was lying on the floor with her 6-year-old son's panicked face looking down at her calling out "Mommy" repeatedly.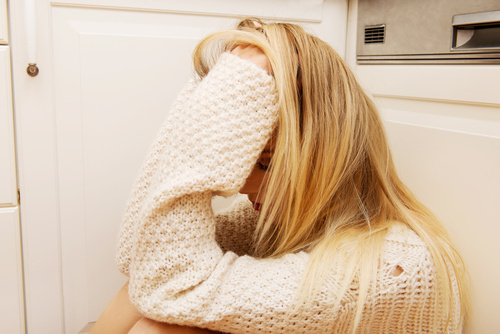 To this day, she has no idea what happened that made the men leave. Perhaps her son's calling out distracted them or maybe her passing out was so unexpected that it freaked them out.
What she did know was that she was unharmed, apart from a small cut on her neck, and she was shaking from head to toe.
She managed to stand up and even had the presence of mind to turn down the pasta that was boiling on the stove.
She called the police and the rest, as they say, is history.
What followed the attack is not really relevant for our purposes, but suffice to say that the door was repaired and upgraded and the men never bothered her again.
What is relevant, however, is the way that it changed her beliefs about herself and her life.
It won't be a surprise to hear that from that point on, she never felt safe in her house.
She said, "I never really felt safe again anywhere"
This one random event had redefined her perception of her safety.
In reality, she was just as safe the day after the event as she was the day before the event. In fact, because her door was more secure, she was actually safer than she had been before.
But it sure didn't feel that way for her. From that point on, she perceived that she was vulnerable, weak and unsafe.
This belief about herself and the world began a chain of events that closed down her life as she knew it until her life eventually became unbearable.
In the next instalment, you will see the devastating effect this had on her family life, and what she did that finally began to turn the tide.
Notes about Sally's story
It's very common for anxiety to close down a person's life. This is because when you feel unsafe, everything stops being fun. Your desire to do things decreases and then your social life naturally suffers.
At some point, it all becomes overwhelming and then you either give up and resign yourself to being anxious for the rest of your life, or you start to look for a solution.
Some people give up for many years then suddenly something will inspire them (like a well-timed email, for example) to make a change.
One thing I know for certain is that anxiety does not have to be permanent. But you have to stop feeling helpless and take action.

https://www.youtube.com/watch?v=YMPzDiraNnA
If you would like to read the next instalment of Sally's story please click below.
Read Next Instalment